Business Ethics and Compliance
Starbucks believes that conducting business ethically and striving to do the right thing are vital to the success of the company.
Business Ethics and Compliance is a program that supports Our Starbucks Mission and helps protect our culture and our reputation by providing resources that help partners make ethical decisions at work.
The program develops and distributes awareness materials, including the Standards of Business Conduct; facilitates legal compliance and ethics training; investigates sensitive issues such as potential conflicts of interest; and provides additional channels for partners to voice concerns. Partners are encouraged to report all types of issues or concerns to the program through their choice of the offered communication channels.
The majority of reports received by Business Ethics and Compliance involve employee relations issues. This trend is consistent with other companies – retail or otherwise – that provide alternative reporting mechanisms as part of a comprehensive ethics and compliance program.
For more information about our commitment to Global Responsibility, visit Starbucks™ Shared Planet™.
For more information about Starbucks Business Ethics and Compliance, please email EthicsAndCompliance@Starbucks.com.
Howard Schultz
chairman, president and
chief executive officer
Matthew Swaya
senior vice president
deputy general counsel and
chief ethics and compliance officer
Starbucks Standards of Business Conduct
The Standards of Business Conduct booklet is a resource distributed to all partners to help them make appropriate decisions at work. The Standards are a brief statement of some of the company's expectations of how we are all to conduct Starbucks business, consistent with our Mission and core values.
English (560K Adobe® Acrobat® file)
Chinese (780K Adobe® Acrobat® file)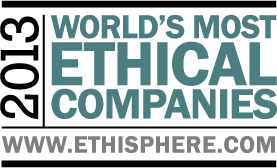 Ethical Business
For the seventh year in a row, the Ethisphere Institute has named Starbucks as one of the World's Most Ethical Companies.
Resources
Ethical Decision-Making Framework.
English (376K Adobe® Acrobat® file)
Chinese (244K Adobe® Acrobat® file)